Some links may be affiliate links. I may get paid if you buy something or take an action after clicking one of these (at no cost to you).
Whether you're bundling up for a long, dark winter or are simply looking for things to do at home on a weekend afternoon, you're in the right place. These activities can bring you together as a couple while giving you a break from the monotony of everyday life.
Have a takeout date night
Choose a restaurant that you both enjoy and get food for takeout or delivery.  Rule #1, you MUST take a shower and get ready as if you were going to be eating at the restaurant. My husband practically begged me to do this after weeks of straight sweatpants after transitioning to a work from home full-time schedule.
When you're fancied up and have your food, explore your options, and find a different place to dine to create a new experience. If you usually eat at the kitchen table, treat yourself to dinner and a movie in front of the tv. If you're always in front of the tv, head out to the yard or driveway with a blanket for a picnic-style treat.
Take a walk
The next time you utter, "I'm bored," get up and go outside. Walking is so simple yet so effective for improving everyone's mood. It also lets you observe new surroundings and maybe talk about something you haven't before.  And on that note…
Get to know each other a little better
Whether you've been dating for a year or have been together 15, there are still things about your significant other that might surprise you. There are a lot of fun questionnaires out there to use as ice breakers to spark a more in-depth conversation. Here are two of my favorites: The 36 Questions that Lead to Love and The 55 Best Questions to Ask to Break the Ice and Really Get to Know Someone.
Clean out your closets
Optional binge on Marie's Kondo's series Tidying Up on Netflix before you start.
Cleaning out your closets can leave you feeling like a brand new, less cluttered you. And if you've not been together too long, this can also turn into a fashion show of the looks your significant other has never seen.  Remember all those slutty Halloween costumes from college? Is your prom dress still hanging around? I bet your partner would love to see them! After the show, divide your items to get rid of into three piles: trash, donate, sell. Make sure to do something with these when you're finished!
Play a board game
I sometimes forget just how fun board games are.  Some of our favorite two-player games are Yahtzee*, Chess*, Checkers*, and Tic-Tac-Toe. We find it's best to play a competitive series of Chess matches over mimosas on Sunday morning. One of my personal goals is to beat my husband at chess. Also, to get three Yahtzees in one game, but I don't want to get greedy.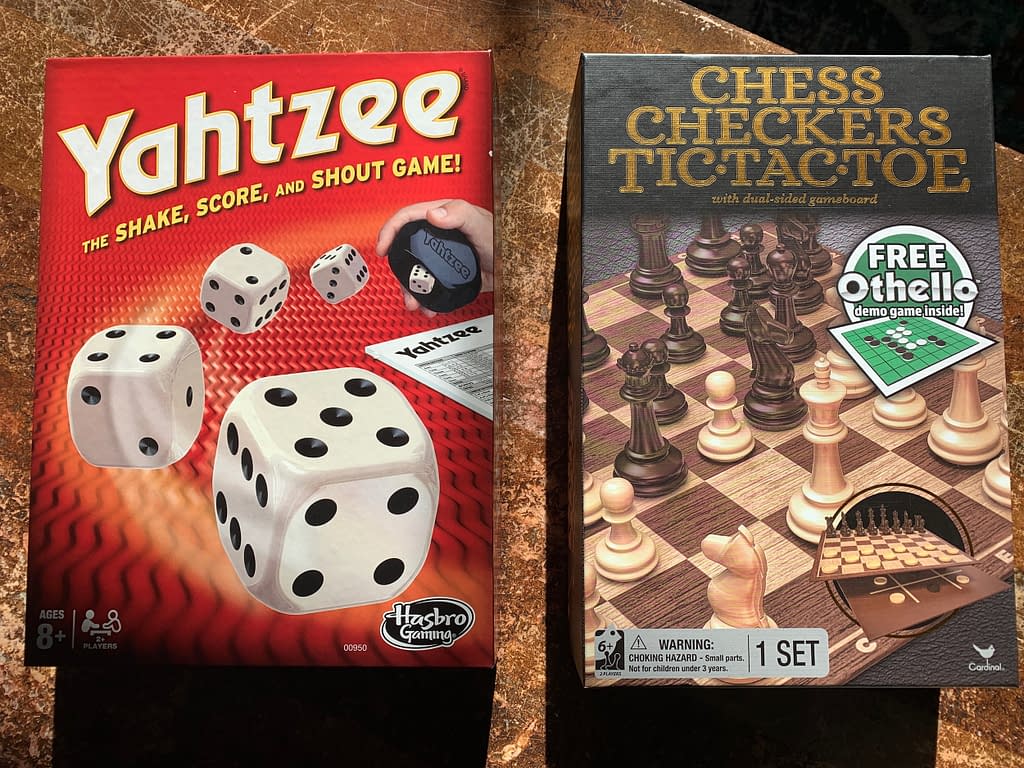 Read a book together
Amazon can deliver virtually any books to your door within a day or two. You can choose to read something on both of your reading lists or something to strengthen your relationship. The Five Love Languages* is a fun read and also helps you learn a lot about how your partner loves.  If you haven't read this book or don't know your partner's love language, do yourself a favor and give it a go. You can also take the love languages quiz online for a quick result.
Tackle a house project
If you're anything like me, there's a laundry list of home improvement projects in the back of your mind at all times. Seize the downtime to start one project. Once you get going, you'll probably be feeling so good that you'll want to keep going with another.
The projects don't need to be expensive (or cost any money at all). In the past few months, we've painted the upstairs hallway (I spent many, many months procrastinating on that one when we already had the paint), painted the master closet using a leftover color, and did a minor office renovation.  Next up, cleaning out the garage! The satisfaction of completing something and doing it together can be a great bonding experience.
Talk money
With ample time and (presumably) a decline in spending thanks to lockdowns, it's the perfect time to assess your financial situation and make a budget if that's something you've meant to do.  Yes, the markets are volatile right now, but that's even more reason to put pen to paper to talk through your financial goals and investing plan if you haven't done that before. If you're not sure where to start, check out these 5 Fundamental Money Conversations You Need to Have With Your Partner.
Practice your baby making
My husband is lovingly referring to the babies that will be born from the COVID-19 period as "coronitas."  If you're like us and not ready for a coronita quite yet, you can still enjoy the practice rounds. It's great exercise and a total mood booster that's also excellent for the immune system!
Side note: Since I'm not on birth control, we track my cycle to know when we're in the safe zone and when we need to use protection.  This book* by Alisa Vitti introduced me to cycle syncing. It's a must-read for women who are of menstruating age and have chosen not to be on the pill.
Try a new recipe
There is never a bad time to focus on healthy, nutritious meals.  Give the pizza delivery guy a break this weekend and acquaint yourselves with the kitchen gadgets you forgot you had. Need some inspiration? Check out these 10 Easy & Healthy Weeknight Meals that you and your honey can make together.
Have a spa day
Treat yourself, and your significant other, to a spa day.  There are many men out there who have not experienced the joy of mani/pedis or face masks. And that's a crying shame.  When there is nothing else to do, and no risk of anyone seeing, why not see if your man will let you clean up his nails a bit or soften up the skin around his eyes? Use your imagination on this one, but the most important thing is to pamper and treat yourselves! If you're not sure where to start, this is my favorite face mask* by Mario Badescu.
If you tried one of these things to do at home with your partner I'd love to hear about it! Drop me a comment and let me know what you found to be the most fun!
Like what you've read? Want to stay updated on future posts? Sign up below to receive my weekly newsletter and access my weekly meal planner printable for free!