It seems like every day we hear about a new fad diet. Paleo, keto, vegan, lacto-ovo vegetarian, Atkins, south beach, intermittent fasting, low carb, no-carb, whole30, and the list goes on. Take a scroll through the over 50,000 results in Amazon's weight loss and diet section, and you'll be overwhelmed by the options.
It's downright confusing.
With so much information and different sources spitting out directly opposing views when it comes to diet and nutrition, how do we know what to believe? Having tried several of these approaches myself over the years, I've only found one real strategy to eating that I think should have a place in everyone's mindset on diet and nutrition.
Eating clean.
This approach to diet can have immediate and sustainable benefits for anyone. It's not the silver bullet diet solution that guarantees you lose 50 lbs by bathing suit season, as some of the diet books promise. But it might be one of the best things you can do for your overall mental health, energy, and productivity.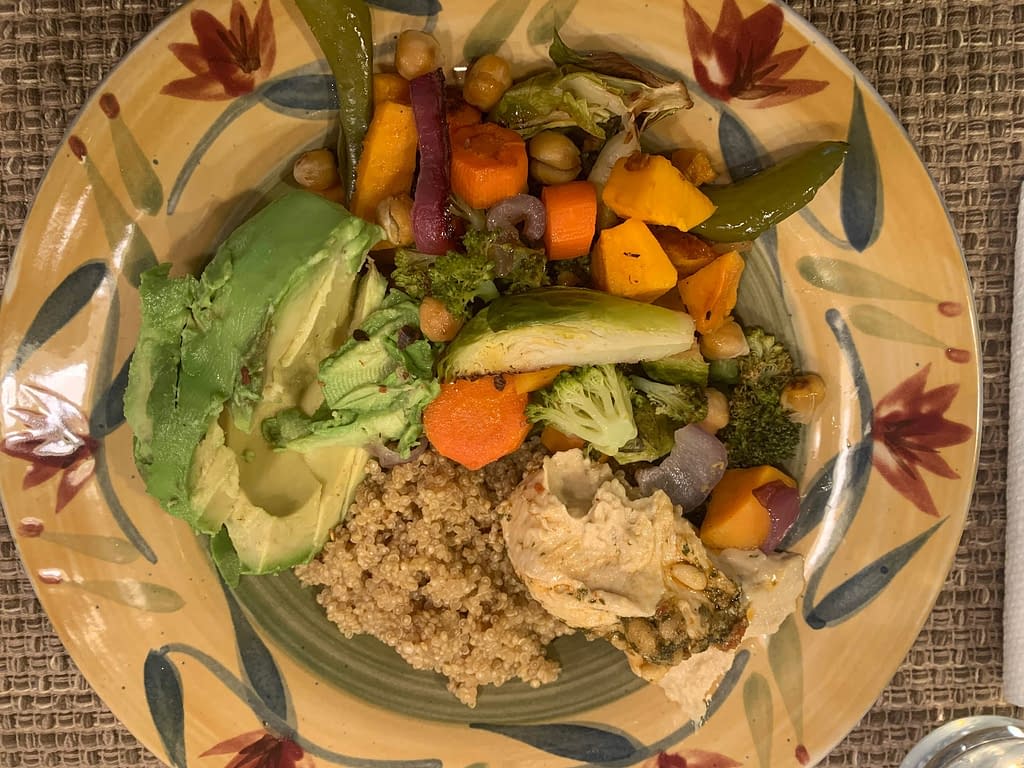 What is clean eating?
Clean eating has gotten a lot of hype in recent years. Eating "clean" has become a mantra in certain communities of cross-fitters and health enthusiasts. But when you hear eating clean, what comes to mind? If you follow some people in these communities on social media, you might think clean eating is synonymous with chicken breast, broccoli, and rice. Clean eating, however, does not mean the absence of flavor. In fact, it's quite the opposite.
Cleaning up your diet is like cleaning up your space. Out with the trash and junk, wipe things off, leave a bright, happy space in its place. Clean eating focuses on:
Eating real food
Limiting intake of processed or unhealthy food
Choosing options that are ethically sourced and environmentally sustainable when possible
It's that simple. Clean eating aligns with one of the simple food philosophies I've been doing my best to follow over the years. I heard this quote in the documentary "In Defense of Food" with author and activist Michael Pollan, and it just clicked.
"Eat food. Not too much. Mostly plants."

Michael Pollan
I love this attitude towards diet. It encompasses everything we could all do a bit more of; eating real food, not overconsuming, and adding more fruits and veggies. But it does beg the question, what is food?
So what is real food?
We live in a society where some people think food is anything available in the grocery store. Pollan refers to the processed foods in the middle of the store as "edible foodlike substances." I find it hard to disagree with that sentiment and feel strongly about shopping the outside of the store. I also like to be sure we don't consume items from center aisles daily. Along these lines, I like to think of food in the realm of:
Products that generally do not come with a lengthy nutrition label, if they have one at all
Items my ancestors would recognize as food (I have a feeling my great, great grandparents would take one look at Fruit Loops and think we're all insane for feeding that to our children)
Products that do not have giant marketing campaigns behind them telling us how healthy they are. When is the last time you saw a commercial from the cucumber industry telling us that they're now low-fat with less added sugar?
What does eating clean do for the body and mind?
The gut-brain connection is now a widely accepted fact in the scientific and nutrition community. There is also substantial evidence showing that poor dietary choices result in an increased risk of depression and other mental health disorders. This is largely due to the high inflammatory response caused throughout the body by processed and high-sugar foods.
There is no denying that what food works its way through the body affects everything from energy level to mood. Think of clean eating as providing your body with the high-quality fuel your brain craves to operate on all cylinders. In my experience, it takes about 3-5 days consuming clean food to feel increased energy and mental clarity.
Okay, I get what you're saying here. How can I clean up my diet?
I'm so glad you asked. There are a few easy and quick things you can implement that will change the game in terms of eating a bit cleaner and healthier.
Focus on whole foods. When making your grocery list, put fruits and vegetables first. I am not a huge fan of meat or dairy in my diet. But making conscious choices to get ethically sourced and sustainable versions of those products can make a big difference too.
Limit purchases of packaged junk foods. Do you know what happens when you buy food? You eat it. I cannot help myself when it comes to having snack foods around. If I buy a bag of chips at the store, you best believe those chips have a shelf life of 1-2 days in our house before I've crushed the whole thing. (Just ask my husband how many times he's come home and wondered where the Cape Cod chips have gone.) Set yourself up for success by only purchasing foods that you'll feel good about eating. Out of sight, out of mind, as the saying goes.
Drink more water/tea and less soft drinks and alcoholic beverages. Cutting out alcohol for some time is a great way to let your body reset. Removal of the alcohol and sugar can lead to more energy and better sleep, among other benefits.
There is virtually no downside to trying to clean up your diet. By removing a bit of processed food and replacing it will real fruits and vegetables and other ethically sourced options, there's nothing but positive outcomes. Have you felt the benefits of introducing a clean eating mindset? I'd love to hear about it in the comments.
Like what you've read? Want to stay updated on future posts? Sign up below to receive my weekly newsletter and access my weekly meal planner printable for free!