Some links may be affiliate links. I may get paid if you buy something or take an action after clicking one of these (at no cost to you).
Sweet potatoes are one of my all-time favorite foods. They are an excellent source of carbohydrates to help my body create the energy it needs, so I love to eat them on a morning when I know I'll be doing an afternoon workout.
I make this simple sweet potato hash with sweet potatoes, red onion, and kale. That's it! Sometimes I'll eat this hash plain (with hot sauce) or pair it with an over-easy egg or two, plus avocado to create a well-rounded and delicious breakfast bowl.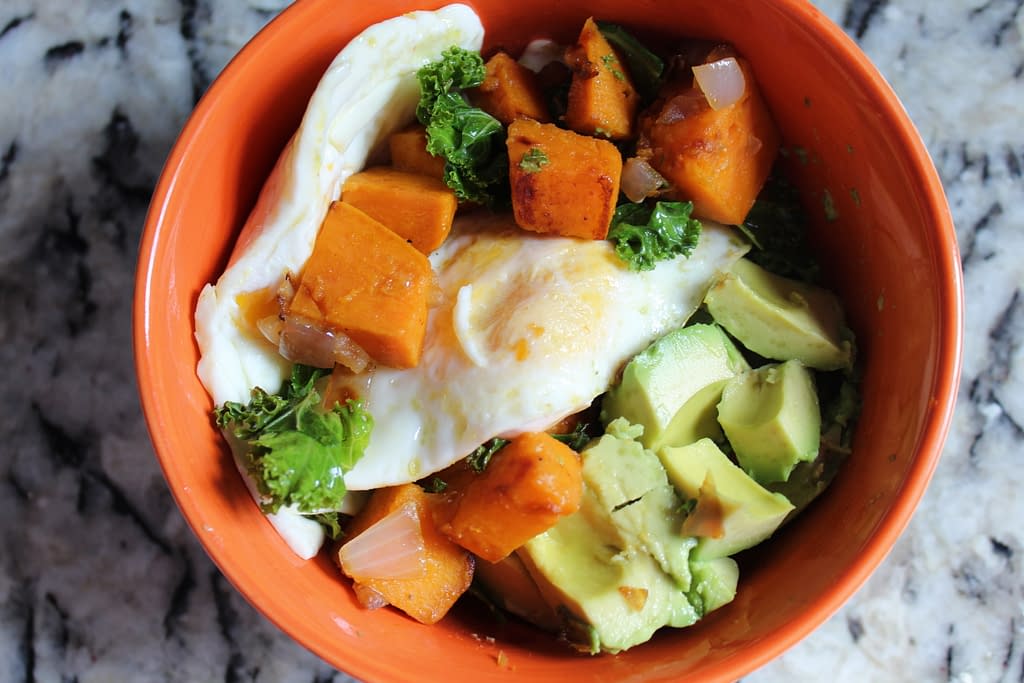 Sweet potato benefits
Sweet potatoes are an excellent source of beta carotene, vitamin C, and potassium. This means they're supporting your eyes, heart, and immune system. Immune system support is especially vital during a time where we're all focused on staying healthy! Sweet potatoes also have a relatively high fiber content. Fiber is touted as being beneficial for gut health while also potentially reducing the risk of diabetes.
Get creative with it
Cooking up the sweet potatoes with onions and kale creates a nutrient-dense breakfast hash that will leave you feeling satisfied, but not stuffed. While these are my core three ingredients, I encourage you to mix it up with whatever other produce you have hanging around in the fridge. I've used peppers, mushrooms, green onion, and jalapeño in this recipe before, and it was terrific. Think of this breakfast hash as your base to add on with whatever your tastebuds can handle!
This recipe makes multiple servings so I can usually get breakfast for two more days for myself or feed my husband and still manage a little bit leftover. It is also easy to double this recipe to provide enough leftovers for the whole week!
I love this sweet potato hash recipe because it's simple, low effort, and is light on the cleanup! I include clean up time in all my recipes because it's such an essential thing for me to determine before choosing a recipe. If a recipe calls for pulling out five gadgets and 47 utensils and dishes, I'm likely to pass! Since this recipe only needs a cutting board and a pan, clean up is minimal!
Sweet potato hash recipe
Easy 3 Ingredient Sweet Potato Hash
Delicious and simple 3 ingredient sweet potato hash breakfast recipe.
Cost
$3.25 total for 3 servings
Ingredients
2

tbsp

Olive Oil

or other cooking oil of choice

2

Sweet Potatoes

medium sized

1/2

Red Onion

small/medium sized

2

oz

Kale

about one handful

1/4

tsp

Salt

1/8

tsp

Black Pepper

1/8

tsp

Cayenne Pepper (Optional)

If you want to spice things up a bit!
Instructions
Peel sweet potatoes and dice into ½ inch cubes.

Heat a large pan on the stovetop over medium heat. Add olive oil to the pan.

When oil is hot, add diced sweet potatoes. Cover and cook 8-10 minutes, stirring occasionally, until sweet potatoes start to turn brown and soften.

While sweet potato is cooking, dice onion and roughly chop kale into bite-sized pieces.

Once potatoes have browned, add red onion and cook for 3-5 minutes, covered, stirring occasionally, until onions start to brown.

Add kale, salt, and pepper (and cayenne pepper if you're using it). Cook, uncovered, for 3 minutes, or until kale is wilted.

Remove from heat and serve immediately.

Store leftovers in the fridge for 3-5 days.
Notes
Calories and serving size will vary based on the size of your produce, how much you choose to use, and your cooking oil.  The calorie count will also go up if you choose to add egg and avocado.  All in all, this breakfast hash should come in somewhere between 250-450 calories, depending on your choices.
Did you try this recipe? Let me know how it went!
Like what you've read? Want to stay updated on future posts? Sign up below to receive my weekly newsletter and access my weekly meal planner printable for free!
Summary
Recipe Name
Easy 3 Ingredient Sweet Potato Hash
Author Name
Published On
Preparation Time
Cook Time
Total Time