Some links may be affiliate links. I may get paid if you buy something or take action after clicking one of these (at no cost to you).
Finding the perfect present for your partner at any stage of your relationship can be tough. One of the things I've struggled with over the years is understanding how much I should be spending. What's the price point of a first holiday season together when you've been dating six months? How does that change when it's been four years? What does it look like when you're engaged, then married?
I am all for having conversations and setting expectations upfront. But I also like to make gift-giving a fun adventure and not just throw some meaningless items together last minute.
My husband and I use these gift exchange ideas when we give each other presents for Christmas. But they can be great for any gift-giving holiday celebration, including birthdays and anniversaries.
The 4 Best Gift Exchange Ideas for Couples
Over the years, my husband and I have tried a few different ways to give gifts. These are some of our favorite gift exchange ideas for couples, and I want to share them with you so that you and your significant other might establish a more meaningful way to exchange gifts this year.
1. The Stocking Stuffer
The rules: All presents for your significant other must fit into a Christmas stocking that you make or buy. (The cost of the stocking counts towards the total.)
Budget: $100-200
We had a stocking stuffer Christmas the first year we moved in together. We were combining Christmas items and realized I didn't have a stocking! This was a fun way to solidify our new Christmas traditions by starting fresh with new stockings. Some popular stuffer items were running socks* and lottery tickets (I love a good scratch-off despite all of my personal finance knowledge telling me it's not worth it!)
The most fun was seeing what kind of stockings we picked out for each other. My husband got insanely creative and ordered me a custom stocking on Etsy with my favorite animal, the kangaroo!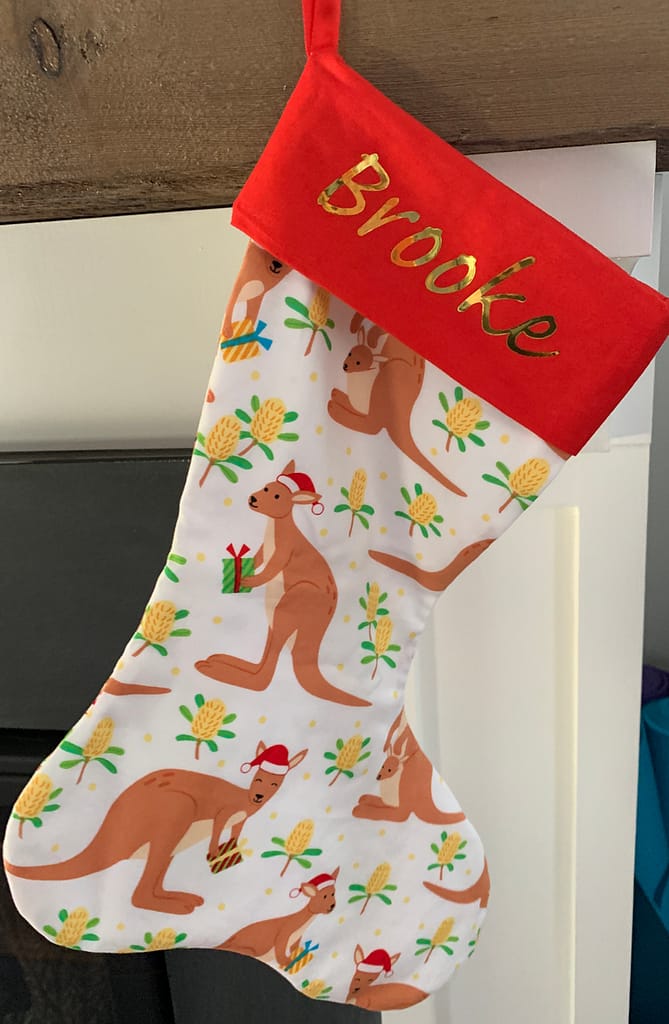 2. The Price Limit
The rules: As long as you stay under the price point, you can give one or as many gifts as you want.
Budget: $20-100
This option is great for when you're in the dating phase. It's a simple way to make sure you and your partner won't mismatch with someone giving a heartfelt homemade gift and the other gifting something extravagant and way over the top. The budget can be as low or as high as you want, but for my husband and I's first Christmas together, we felt $100 was a good cap.
3. Activities Only
The rules: Each partner will plan and purchase tickets, if applicable, for an outing or activity of some sort.
Budget: $50-200 (or more, depending)
If you've been together a while and feel like you have everything you need, it can be far more practical to give an experience instead of an item. The activity can be a date night to see a concert, a weekend away, or a full-blown week-long vacation (although you'll probably want to discuss that level of spending with your partner first). The important thing is that you and your partner will be sharing an experience that you can treasure forever instead of another knick-knack on the shelf gathering dust.
4. Want, Need, Wear, Read
The rules: You purchase or make exactly four gifts for your partner. Something they want, something they need, something to wear, and something to read. (If you're not bookworms like us, you can always trade something to read for something to listen to or something to watch.)
Budget: $50-200
My husband and I did this the Christmas after getting engaged when trying to keep expenses down (planning a small wedding is still expensive, y'all!). We loved it so much that it may become a permanent Christmas tradition. Because it's only four gifts, you can really dedicate time and energy to finding the perfect items.
I hope you and your partner found an idea that piqued your interest. Whatever option you choose, it's always the thought that counts the most. And nothing can ever beat the laughs or tears at the fun, creative, sentimental gifts that express to your partner that you genuinely understand who they are and what makes their heart sing. Happy gifting!
Like what you've read? Want to stay updated on future posts? Sign up below to receive my weekly newsletter and access my weekly meal planner printable for free!
Disclaimer: The above is my own opinion and is for informational and educational purposes only. The views expressed above are completely my own and are not intended to be a substitute for investment or financial advice from an actual professional human. While I might have some great ideas, seek a duly licensed professional for any financial or investment advice.