Some links may be affiliate links. I may get paid if you buy something or take an action after clicking one of these (at no cost to you).
I enjoy doing cleanses on a semi-regular basis. I generally try to do some form of "detox" a few times per year. It may look like saying goodbye to alcohol and caffeine for 10 days or simply eating perfectly clean for a week. No matter what method I choose, my purpose is to reset my body and give my digestive system a break and time to heal.
A different kind of detox
I read the book Medical Medium Liver Rescue earlier this year, and admittedly, I was a bit skeptical at first. The author, Anthony William, claims to have a lifelong relationship with a spirit who gives him deep insight into the human body and has taught him things that scientists and medical doctors haven't yet discovered. Stick with me here. It sounds a little out there but truthfully it only came up in the book a handful of times and I never felt like anything he said was too cuckoo to make me put it down.
Pro tip: The book is full of fascinating medical information, but if you're in it solely for the detox, you can skip to about 80% through before the actual cleanse is revealed.
Ultimately, the cleanse captivated me with its array of healing foods and promise to flush harmful toxins out of my body for good. I've struggled (and still do) with hormonal acne, and this book indicated that it might be a sluggish liver that was causing my issues. I am always down for a detox, so I figured, why not give this one a shot. At the absolute worst, I'll feel better, sleep better, and probably clear up my skin a little just by a better diet. Following is my experience day by day on the 3:6:9 Liver Rescue Cleanse, along with the shopping lists I used.
The basics of the 3:6:9 liver rescue cleanse
This liver detox is split into three sections of three days each, aptly named the 3, the 6, and the 9. The first three days are mean to prepare your body for what's about to come, much like a warm-up. Days four through six are heavy on fruits and vegetables to really get the toxins pulling out of your liver. And days seven through nine are where your body flushes all the bad stuff out of your system.
My shopping strategy
I'll be the first to say that this was not an inexpensive endeavor. The beautiful yet costly thing about this cleanse is that you are flushing your system with a ton of nutritious food. And since I try to buy many things organic, it ended up costing a little under $200 for 9 days. But when you compare that with the cost of eating out, it actually doesn't look that bad.
Because most of the food is fresh produce, I split my week up into 3 trips. I made my first trip the day before I started, then one each on days 3 and 6 to plan for the next segment. I found it incredibly helpful to print out the book's images containing what you eat when and using those to guide my shopping and list-making, so I didn't miss anything.
The 3
For lunch and dinner on days one through three, you have the meal of your choice that fits into the guidelines (below). I had leftovers and some other food at home already, so the list below is only what I bought specifically for the cleanse but doesn't cover everything I ate. For example, I made sweet potato hash for breakfast, but I didn't include sweet potato or onion on my shopping list since I had those at home, plus the meals in the 3 won't be the same for everyone.
Restrictions for the 3
Avoid gluten, dairy, eggs, lamb, pork products, canola oil
Reduce radical fat intake by 50% and save fat consumption until dinner
One serving of animal products per day, dinner only
Shopping list
Lemons and Limes (for morning lemon/lime water) – 6 total
Apples (for morning and afternoon snacks)- 9
Dates – 4-12
Hibiscus or lemon balm tea – 3 (I ordered this ahead of time from Thrive Market*. Their organic teas are my favorite!)
Lettuce/Spinach/Kale
Day 1
The first day was relatively easy. I felt a bit more tired in the afternoon because I cut out my morning caffeine, but the eating was easy to handle. I'm already used to doing most days without gluten and dairy, so I was all set by making minor modifications to my fat intake. The hardest parts for me were forgoing MCT oil and collagen in my coffee and not using olive oil for cooking.
Day 2
I woke up on day 2, feeling a little more clear mentally. Despite the fact that I was up about 3 times in the night to use the restroom, which was called out in the book, so I was expecting it. I did my best to follow the guidelines by keeping breakfast mostly fruits and veggies, and holding off on starches until later in the morning.
On day 2 I had many headaches and even some joint pain in my knees throughout the day. I had to nap at lunchtime because I was feeling kind of rundown, which was very unusual. This was the beginning of my "oh goodness. I think something is happening" thoughts.
Day 3
Day 3 was really strange, and I felt horrible. I woke up at 4 in the morning because my hips were aching so badly, which is not something I've ever experienced. I moved to the sofa and luckily fell asleep again for a bit, but it was mighty uncomfortable. This hip discomfort continued throughout day 3 and into day 4.
I spent far too long googling and discovered that it was likely detox-related. I found multiple sources stating how intertwined the hip and knee joints are with the liver and kidneys. It became clear that it was likely the toxins my liver was releasing that was giving me so much discomfort.
If there was a time, I thought about quitting, this was probably it. I have never had a painful experience like this with a detox before, and the only thing that kept me holding on was that I felt like my body needed to go through this. I'm happy to say that after day 3, things started feeling a lot better.
The 6
Restrictions for the 6
Avoid all radical fats
Eat as much as you need to feel full
Stick to the foods on the chart
Shopping list
Lemon and Lime – 6 total
Apples – 9
Asparagus – 2 clusters
Brussels – 2 bags
Bananas – 6
Frozen wild blueberries – 1 bag
Tomatoes 18 cups (I bought 4 containers of cherry tomatoes)
Cucumbers – 3 (It calls for 1 per liver rescue salad, but I found that it was too much, and I only ended up eating half of one each time. For that reason, I'd recommend purchasing half as many as necessary or plan to use them for cucumber noodles or juice during the 9)
Celery – 8 bunches (I ended up needing to go back to the store on day 5 for more celery. The juice alone takes 1-2 bunches, so I'd recommend buying at least 8 bunches to get you through these 3 days of daily celery juice, salads, and snacks)
Cilantro – 1 bunch
Scallions – 1 bunch
Spinach/Kale/Arugula – 1 of each
Oranges – 6
Day 4
From a food preparation standpoint, day 4 was sort of the cleanse's first day since days 1-3 weren't terribly far off from how I normally eat. I started the morning with celery juice and the liver rescue smoothie, which was absolutely delicious and filling (2 bananas, 2 cups of wild blueberries, and I used mango instead of dragonfruit, but if you're in the market for pitaya powder you can get it on Thrive Market* for relatively cheap!). I also started to really appreciate the apples and dates snack as I felt that was incredibly filling.
This day starts two a day liver rescue salads. And these salads are massive. After making the first one per the recipe's instructions, I decided to essentially half the amount that I was eating for my evening salad. It was so much food, and I felt like I was spending an hour just chewing.
I continued with intermittent hip pain during the fourth day and was in the bathroom far more frequently than made me comfortable. And to avoid providing too much information, I'll just say that I felt as if I was releasing many toxins via stools—end of story.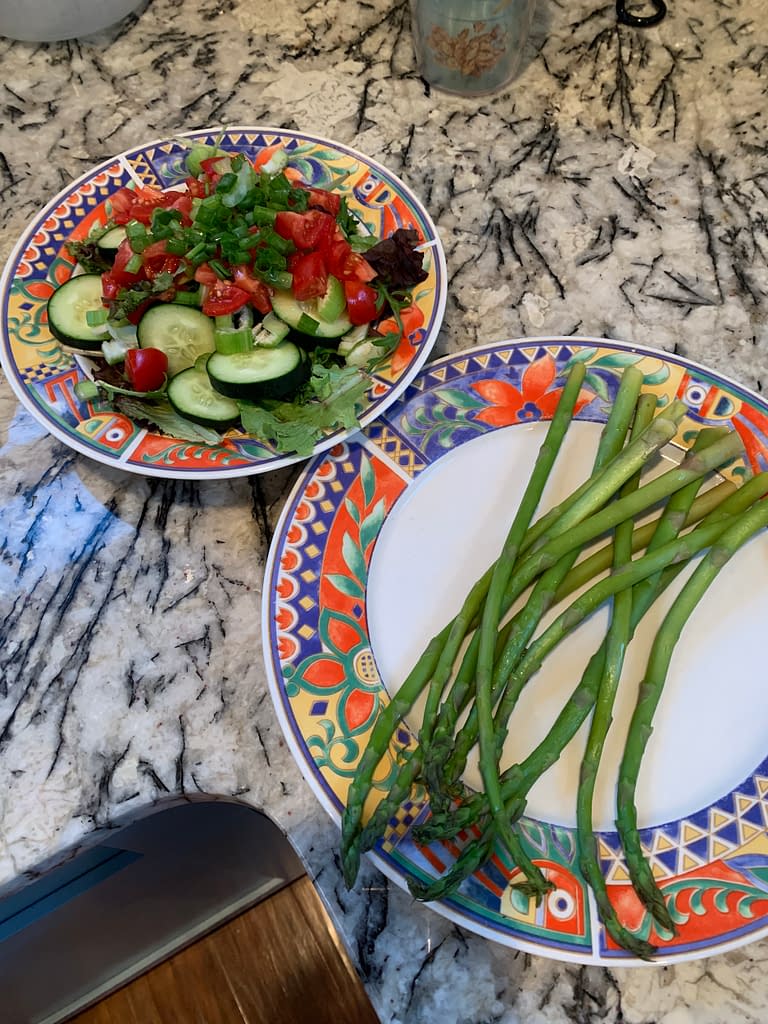 Day 5
This was the first day that I woke up feeling much more mentally clear and happier. Physically lighter, too, as I lost 2 pounds since the first day. I was able to do a longer yoga session and went for a run, and felt very good for both. My joint pain and hip pain had mostly, if not totally, subsided with only a minor twinge of discomfort now and then.
After my lunchtime salad, I was really feeling excited about when I could eat a potato again. I love fruits and veggies, but my mind more than my body was telling me that I could use something nice and starchy. I wasn't exactly hungry because I was eating plenty of food, and I think it was more of a mental thing, but I was craving something sweet and delicious pretty hard on the night of day 5. It's funny because I thought that I would start to relinquish my cravings by this time.
Day 6
My sleep seemed better, except I was getting up a lot in the night to use the restroom, which I'm not used to. I struggled to drink all of the liquids in the evening and knowing that I was setting myself up for a night of interrupted sleep. But this is one of the things that I felt was worth the sacrifice.
The 9
Restrictions for the 9
Avoid all radical fats
Eat as much as you need to feel full
Stick to the foods on the chart
Shopping list
Lemon and Lime – 6 total
Celery – 6 bunches
Sweet potatoes – 2
Apples 7
Cucumber – 2
Avocado – 1
Bananas – 4
Oranges – 10 (or more depending on how much orange juice you want to have the last day)
A few things worth noting: I had enough asparagus, brussels, spinach, tomatoes, and cilantro over to carry me through days 7 and 8 without purchasing more. I also had enough cucumber left (since I was only using half per salad) to make cucumber noodles with the soup, so I only bought extra to make the final day's juice.
Day 7
For the first time during the cleanse, I felt hungry on day 7. The raw soup had a fine flavor, but it would've been a lot better heated up, and I wanted more than anything to throw it on the stove for a few minutes. It's not that it had a bad flavor; it just wasn't what I wanted to be eating, so I ate the cucumber noodles dipped in soup and saved the rest for day 8.
I also skipped the celery and cucumber at snack time and just had 2 apples. I had two sweet potatoes, Brussels and asparagus for dinner, and decided to forego the salad. At this point, I was truly so sick of chewing that I cut those things out so that I wouldn't have to spend so much time eating.
Day 8
I visited the chiropractor on the 8th day. I generally have issues in my lower back, so I was interested to see if anything had changed. My overall inflammation was super low, and I had the best visit I've had in a long time. Very few things were out of alignment, and I felt like my body was moving better than it had in a long time. By day 8, I felt like the food preparation was simple and that I was comfortable spending the amount of time necessary to juice and make smoothies and salads.
Day 9
The last day of the cleanse is the all-juice day. And it was a lot easier than I had anticipated until dinner time. The juices are delicious, and I think I easily had 5 glasses of orange juice throughout the day.
I confess that I steamed a sweet potato for a late dinner because I was feeling kind of over the whole thing. I convinced myself that any removal of toxins had already happened at that point and that I was better off happy with potato than unhappy without.
Day 10 and on
While the cleanse was officially over at this point, I eased back into it, as recommended, by continuing to do the liver rescue morning routine and holding off until dinner time to reintroduce any radical fats. I have to say that my energy on day 10, and the few days following, was through the roof, to the point that I was practically bouncing off the walls. I felt so light, motivated, and excited about nothing in particular. The feeling I had on day 10 and beyond is the number one reason I will go back to this cleanse in the future and recommend it to others.
What I learned
What you eat is all mental – When I committed to doing this cleanse, it was a purely mental decision. I knew that I was doing what was best for my body. And even though I was getting terribly sick of eating so many veggies every day, I powered through with the end goal in mind. Even on days where you're hungry, and you feel like you can't do it (first, read this post about why you shouldn't use that word), remember that you're giving your body a rare opportunity to serve you better. And that's priceless.
Create a strategy – Making the juices, smoothies, salads, and snacks is a hefty time commitment, so it's helpful to develop a daily strategy for when you'll prepare foods. My morning routine typically consisted of drinking lemon/lime water while making celery juice, drinking celery juice while making morning smoothie, then going for a walk in the 20 minute period between drinking the celery and the smoothie. By consolidating making these first thing in the morning, I felt like I could get it done quickly and efficiently.
Prep ahead when you can – Many of the days during this cleanse, you'll be eating the exact same thing. So if you cut the celery for your afternoon snack while making the morning celery juice, you're killing two birds with one stone. Another great opportunity to prep is by making your evening liver rescue salad in a Tupperware while you already have everything out for your lunch.
Go light on the exercise – I took a break from lifting weights in the gym while doing this detox. I felt like it would have been too strenuous on my muscles and wanted to allow my body all of its resources to put towards the detox. I continued to run and do yoga during this time, and I feel like that helped with the detox by helping me sweat some things out. Be gentle, and listen to your body more than ever during this time.
I hope my experience with the 3:6:9 Liver Rescue Cleanse inspires you to want to do something kind for your body. Overall it was an incredibly humbling experience that taught me even more about listening to my body and its needs.
Have you tried the 3:6:9 Liver Rescue Cleanse or do you have any questions I can answer? Let me know in the comments!
Like what you've read? Want to stay updated on future posts? Sign up below to receive my weekly newsletter and access my weekly meal planner printable for free!