Some links may be affiliate links. I may get paid if you buy something or take an action after clicking one of these (at no cost to you).
Several years ago, my Mom and I started experimenting with homemade beauty products. We began by making lip balm, which I'll feature in an upcoming post, then decided to try our luck with lotion. The thing about homemade lotion is that generally, the ingredients you want to use are incredibly oily. So while we failed at making a hand lotion for daytime, we came up with a homemade lotion recipe that is fantastic for using on your face at night.
I go to bed looking like an oil slick but it's worth it because my skin feels so rejuvenated in the morning.
Ingredients
I make sure to use all organic ingredients and do my best to check reviews and sources before purchasing. I have tried to narrow down my home skincare regimen to only sources that I know and understand (with words I can pronounce). There is so much out there in today's beauty market that is toxic and harmful to our skin and bodies, so you can never be too careful. Below are the ingredients I use and the only ones you'll need to make a great night lotion!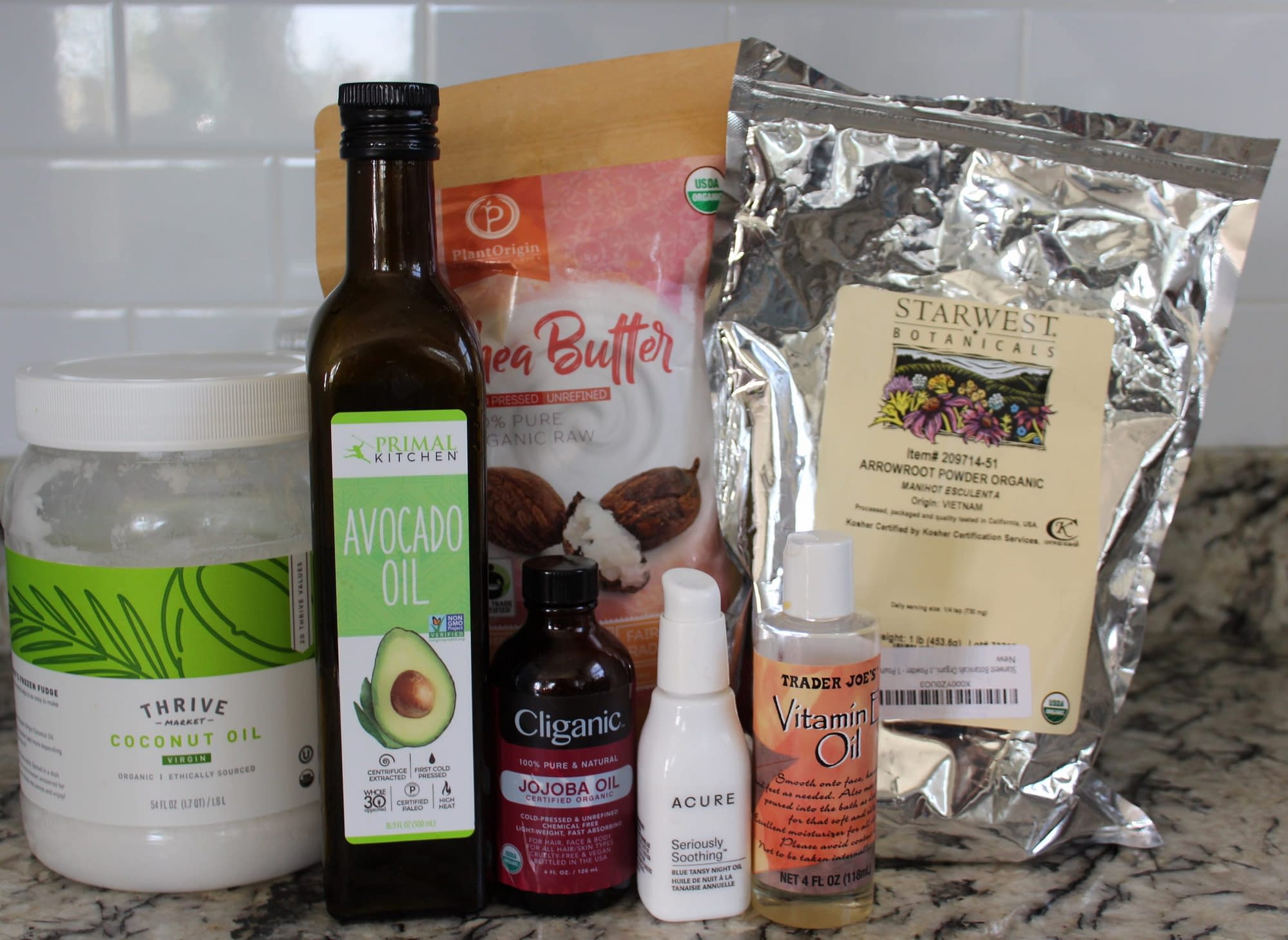 As with all homemade beauty products, my homemade lotion recipe is only one way of many. I had to experiment more than a few times before I found one that I liked for both texture and smell. Feel free to mix it up with the ingredients. The nice thing about the base of this recipe is that it doesn't use too much of any single ingredient, so if you mess up and need to start a new batch, you're not throwing out the baby with the bathwater.
Homemade Lotion Recipe
Homemade Night Lotion
This oil based lotion is wonderful for your skin at night
Materials
1/4

cup

coconut oil

1/4

cup

shea butter

1/8

cup

avocado oil

1/2

tsp

vitamin E oil

1/2

tsp

jojoba oil

2-3

tbsp

arrowroot powder

start with 2 and add as needed to thicken

10

drops

blue tansy night oil

or any essential oil of your choice
Instructions
Combine all ingredients together in a mixing bowl.

Mix for 3-5 minutes or until all ingredients are whipped together in a lotion form. (Halfway through mixing stir the ingredients together to make sure shea butter doesn't stick to sides.)

Test the lotion on your arm or top of the hand to ensure consistency.

Move mixture to small Tupperware container or mason jar with lid for storage.
Notes
Be sure to store in a cool, dry place!
Need to know info
Always store lotion in a cool, dry place. Temperatures above about 72°F will cause the cream to turn oily in the jar. Don't fret. Melting is completely normal, just stir it and use it as usual. It's going to turn to oil when it hits your skin anyway!
You only need a little bit to cover your whole face and neck. Less is more, so start with a dime-sized dollop and add more as needed.
Oil stains on your pillowcase may happen. If you're noticing oil stains on your pillowcase that won't come out in a regular rinse cycle, try scrubbing with a bit of dish soap designed to cut through oil and grease before adding the pillowcase to the wash.
Did you try this at home or have a favorite DIY night lotion you're already using? I'd love to hear about it in the comments!