Some links may be affiliate links. I may get paid if you buy something or take an action after clicking one of these (at no cost to you).
As a society, we tend to celebrate certain events by giving cards. Birthdays, Weddings, Engagements, the birth of a child, the list goes on. But where do those cards go after the excitement of the event is over? Perhaps you like to put the cards away in a box under the bed to go back and look at them someday. Maybe you throw them into the recycling bin without a second thought. The cards might sit in a heap on the counter for months as you debate where they'll move next.
We recently received a slew of cards for an engagement and subsequently, a wedding. I started to feel that we should display these special cards in our home instead of stacking them in a pile, never to be looked at again. They are a reminder of the love and support of friends and family and each holds a thoughtful note from those who love us most.
I created the below collage after our engagement and decided to share my step by step process with our wedding cards for others who want to share in the joy of seeing these lovely messages on the wall every day. This is one of my favorite crafts by far as it allows you to go back and experience the love you felt receiving each card again!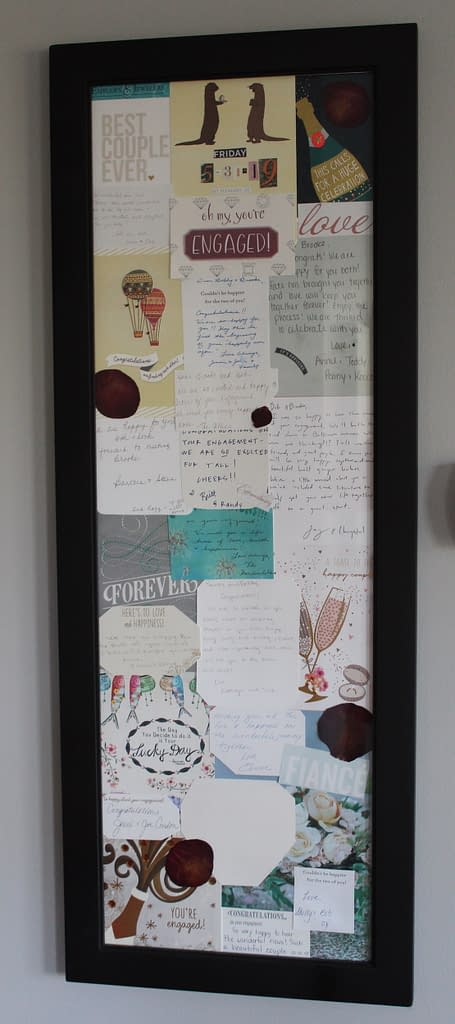 This is an extremely simple project that requires limited supplies, making it great to do for yourself, or even as a gift for family and friends. So let's get started!
Step 1: Gather Supplies
For this project, you'll need:
your stack of special occasion cards
glue*
a frame* (I used this 24 x 36 with plexiglass front, this style comes in many sizes and works perfectly for this project)
old magazines (if you want to cut out letters to form a message as I like to do)
Step 2: Cut the Cards
I think this step is the most fun. Not only do you get to relive the memory associated with each person the card is from, but you get to choose the cutest pieces of each card to use in your collage. I like to cut out special messages and the signatures from the inside of the card and place those in one pile. For the other pile, I choose an element from each card that's either pretty, has a cute quote, or is, in some other way, meaningful. Some of the cards we receive are so pretty I end up keeping the whole front side!
Step 3: Decide on Extras
For our engagement collage, I had some dried rose petals from the flowers my husband had given me that night. If I hadn't included them in this collage they'd still be sitting in a drawer. I also like to cut out letters/numbers/words from magazines to use to capture the date or any other unique element.
Step 4: Start the Arrangement
Open up your poster board and pull out the stock photo insert to use to affix your cards. Layout the sections of card to see how much space you'll fill with photos and how much extra space you may have. If you find yourself with a lot of extra space, go back to magazines for images or supplement with photos from the occasion.
Step 5: Glue, Glue, Glue
Start with the top or bottom of the arrangement and begin to glue the cards in place. Once you get into it, you may find that certain cards fit differently than you had planned, and you may need to make some minor changes. Sadly, this sometimes means cutting out certain pieces due to size restraints. Continue gluing until all your cards and extras are down.
Step 6: Put It All Together
Once everything is affixed and has time to dry, you can either place the plexiglass on top before flipping over or simply flip the now completed collage over into the frame. Affix the backing and turn over to see your finished product! Be sure to look closely at any small pieces you may have attached. Once I flipped over the wedding collage, I noticed that our date had changed from 2-22-20 to 2-2-20, and I had to take things apart to find our missing 2 again!
I love the memories that are brought on by looking at our cards displayed in our home. I hope you find satisfaction in the same! If you tried this craft, I'd love to see your finished product in the comments!